Nathaniel Dickinson
Was killed
And scalped
bBy the Indians
At this place
April 15, 1747
Age 48
Asahel Son of Joseph Burt
Companion of Dickinson and
Sharer of his fate
Aged about 40
Location: Routes 10 & 63. Across from the public boat ramps and south about 30 feet.
---
Here, July 23, 1748
Aaron Belding
Was killed and scalped
By the Indians
Location:  On the stone wall in front of the Congregational Church, across from Greenfield Cooperative Bank on Routes 10 & 63.
---
Site of Squakheag's first grist mill
Northfield
175 westerly
Location: Routes 10& 63. West side of the road near Northfield Post Office & Glen Road.
---
On this lot a
Fort was built in 1686
Rebuilt in 1722
Location: Routes 10 & 63.  South of the Grist Mill monument, past Post Office at green house.
---
Nathaniel Dickinson
Built a house in 1728 near this spot which was soon changed into a fort for a protection against the Indians. He lived here nineteen years and was killed and scalped by the Indians. April 15th 1747. A monument at Pochaug Hill marks the spot where he fell.
Benoni Dickinson
His son, was born here. Where he lived fifty years. He was a soldier of the Revolution and died in 1839 aged ninety-two.
Job M. Dickinson
His son was born here. He was a justice of the peace and Selectman many years and State
Representative in 1835.  He died in 1870. Aged eighty seven.
Elijah Dickinson
His son, of Fitchburg, was born in West Northfield, August 1st, 1816. He erected this building in memory of the above and presented it to the Town for a Public Library.
---
Belcher Memorial Fountain
Location: Routes 10 & 63.  North side of Town Hall.  69 Main Street. (Originally located on the corner of Warwick Road and Main Street)
---
Northfield Main Street
Designated a
National Register
Historic District
July 8, 1982
By the
U.S. Department of the Interior
National Park Service
---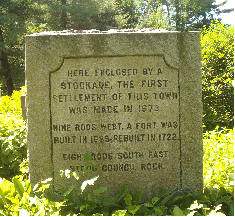 Here enclosed by a
Stockade, the first
Settlement of this Town
Was made in 1673
Nine rods west. A fort was
Built in 1685; Rebuilt in 1722
Eight rods south east
Stood Council Rock.
Location: Routes 10 & 63.  Main Street. West side near fromer Mobil Station and next house.
---
Here under a
Large oak standing
Until 1869,
The first public
Religious services
In this Town ere
Held in 1873
Location: Routes 10 & 63.  Across and north of Route 10 & 63 intersection. 5 Main Street.
---
King Philip's Hill
________________
Philip, second son and
Successor of Massasoit, Sachem
of the Wampanoag. camped on
This hill during the winter of
1675-6.  The stump of a large
Look-out tree together with
Defence trenches are to be
Seen on top.
_________________
Massachusetts Bay Colony
Tercentenary Commission
Location: From Route 63, turn onto Route 10. Cross the Connecticut River bridge. Take 1st right, then next right. The Hill is just before the Connecticut River.  A trail can be walked and the remains of a stump of a lookout tree, together with defense
trenches can be found.
---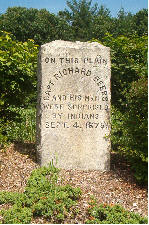 On this plain
Capt. Richard Beers
And his men
Were surprised
By Indians
Sept. 4, 1675.
Location:  Route 63.  1. 4 miles south from the Routes 10 & 63 intersection, on the east side.
---
The grave of
Capt. Richard Beers
Killed near this
Spot by Indians
Sept. 4, 1676
Location:  Going south on Route 63, left onto South Mountain Road. Left side, in front of the Christian Redemption Academy (former Linden Hill School).
---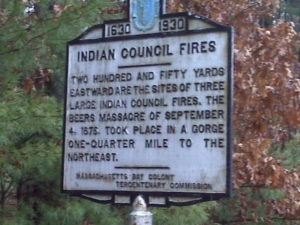 Indian Council Fires
___________________
Two hundred and fifty yards
Eastward are the sites of three
Large Indian Council fires.  The
Beers Massacre of September
4, 1675 took place in a gorge
One-Quarter mile to the
Northeast.
_____________________
Massachusetts Bay Colony
Tercentenary Commission
Location:  South of the Captain Beer's monument.
---