Find all our
programs through the calendar.
For info about our 2022 Summer Reading Program, CLICK HERE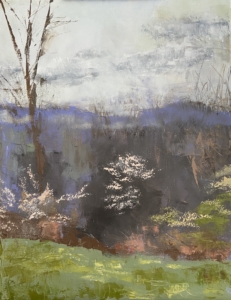 Paintings by Christine Copeland 
On view through mid-August
Living as I do surrounded by conserved woodland, I observe firsthand the subject matter of most
of my work on a daily basis. A familiar scene can look very different at different times depending
on the sky, the light, the foliage. Seasonal changes bring recurring surprises: bright patches of
blooming shad bush in early spring, colorful birds glimpsed on their fly-through in fall and
spring, crystalline ice sculptures in winter. Bigger vistas come and go while ambling with friends
on Connecticut River backroads on warm fall days. To see the common but shy wildlife – bobcat,
fox, fisher cat – requires senses on high alert. This is good for a painter.
In recent years I have exhibited at Amherst Art Days, Great Falls Discovery Center, The
Connecticut River Museum in Essex, the Lyme Art Association, and Greenfield Community
College. I am especially excited to be exhibiting at Dickinson Memorial Library now because of
the elegance of the gallery and because this is my town. I want to share my work with my
neighbors. It's also exciting because I am using a medium and process that is new for me (except
for the children's book illustrations), a water mixable oil paint called Royal Talens Cobra. Until
recently I have worked primarily in acrylic paints or inks. I have a BFA from Cornell University
but spent most of my career in Publications and Communications, so getting back to painting full
time is one of the great pleasures of my "third age."