Paintings by Jesse Morgan
Paintings by Jesse Morgan
On View Jan 3 – Feb 14, 2023
Still Life thru the Lens: Photographs by Catherine Lee
Still Life through the Lens: Photographs by Catherine Lee
On view October 21 – November 20
Works by The Community Crafters
Works by The Community Crafters
On view through end of September
Come enjoy a variety of work by our Tuesday Night Knitting Group. If you feel inspired, join them at 6:00 on Tuesdays!
Paintings by Christine Copeland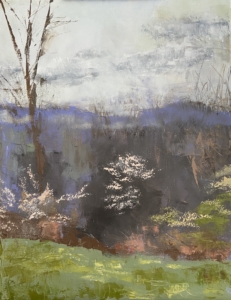 Living as I do surrounded by conserved woodland, I observe firsthand the subject matter of most
of my work on a daily basis. A familiar scene can look very different at different times depending
on the sky, the light, the foliage. Seasonal changes bring recurring surprises: bright patches of
blooming shad bush in early spring, colorful birds glimpsed on their fly-through in fall and
spring, crystalline ice sculptures in winter. Bigger vistas come and go while ambling with friends
on Connecticut River backroads on warm fall days. To see the common but shy wildlife – bobcat,
fox, fisher cat – requires senses on high alert. This is good for a painter.
In recent years I have exhibited at Amherst Art Days, Great Falls Discovery Center, The
Connecticut River Museum in Essex, the Lyme Art Association, and Greenfield Community
College. I am especially excited to be exhibiting at Dickinson Memorial Library now because of
the elegance of the gallery and because this is my town. I want to share my work with my
neighbors. It's also exciting because I am using a medium and process that is new for me (except
for the children's book illustrations), a water mixable oil paint called Royal Talens Cobra. Until
recently I have worked primarily in acrylic paints or inks. I have a BFA from Cornell University
but spent most of my career in Publications and Communications, so getting back to painting full
time is one of the great pleasures of my "third age."
-Christine Copeland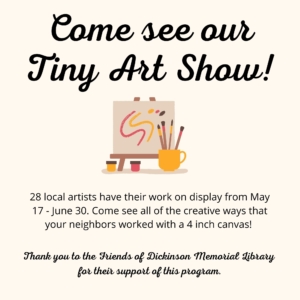 Fragmented Thoughts: Drawings by Holly Tomlinson
Greenfield artist Holly Tomlinson graduated from Keene State College in 2008 with a BFA in Studio Arts. Holly enjoys using a wide variety of mediums in her creations, including oil painting, mixed media, and fiber.
The work that will be displayed at Dickinson Memorial Library, is from a collection of abstract charcoal drawings called, "Fragmented Thoughts".   It is an exploration of mark-making to express emotions tied to an absence of security and a sense of the unknown experienced in the pandemic.  The artist comments, "These drawings helped me process all the changes that came about in 2020. I was feeling a combination of frustration and loss; using expressive drawings proved helpful in processing these emotions." Follow along with Holly's new work on Instagram: @greycricketstudios
Works by Jim Clarke/Jed Hover
Jim Clarke (Jed Hover) has dedicated himself to art and music throughout his lifetime. Since his early 20's he has been a musician, both performing and composing rock music.
He performed throughout Massachusetts, in the Amherst area, Worcester, and southern Vermont area throughout the 70's-2016 with Tumbleweed, and as a guest with other bands. Nationally he performed with Buddy Cage (from New Riders of the Purple Sage), Commander Cody and Tim Kelliher (Florida)
Jim has lived in Northfield for over 35 years. He raised his two sons here in town. His interest in art began when his sons were young and they are frequent subjects of his work. He was inspired by his son who had autism and worked with different mediums in attempting to portray his son's perspective. His work accelerated and helped him survive after the tragic and unexpected loss of his son. Much of his work explores his son's creativity and attempts to peer inside his mind.
A severe stroke in 2016 left Jim with paralysis and unable to speak. Jim had always been a talker, a storyteller and great conversationalist. He has become a wonderful and perceptive listener and continues to be a keen observer of others. He has always enjoyed a wide circle of friends. They have been a significant support to him since his stroke. Sports have also been a very big part of Jim's life both as a player, and a fan. He is extremely knowledgeable about sports and sport history.
Jim loves the Northfield community and is pleased for this opportunity to be able to share his work with others. Thanks to the library!
Leni Gaudet has been painting animal portraits, landscapes and still lifes since 2002.  Her first love is painting animal portraits in pastel with over 65 commissions across the United States.  Over the years, she has expanded her work to include landscapes, flowers, and children in pastels or oils.  Her favorite artists are the Impressionists which have helped her learn more about color, the way paint is applied and the way they capture the light.  Every artist has their own vision and look, and I want to keep my individual style while expanding my knowledge of art.
Landscape Painting by Steve Welch
"I have been painting as a hobby for 30 years, having started at the Hill Institute in Florence (Ma) with Greta Carey as my instructor.  I have shown my work at area venues and have been juried into local competitions.
I am grateful to live in western Massachusetts surrounded by God's creation.  Painting allows me to share what I see every day.  I hope you are able to take a few minutes for a peaceful tour through my landscapes."
-Steve Welch
Views of the Valley: Photographs by Catherine Lee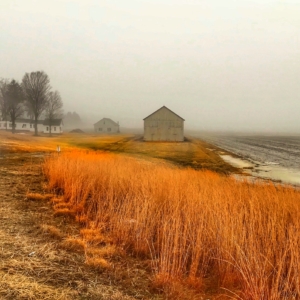 "I am a Western Massachusetts photographer and I specialize in shooting farms, barns and landscape. I exhibit my work in local libraries and galleries and community centers to inspire my visitors to find a greater respect for the influence of our slowly disappearing farms.
I always have my camera. I never stop looking for beautiful pictures. Everyday I pause to look. I am influenced by my passion for art history and my desire to create fascinating works that imitate the paintings of my favorite artists and capture a moment in time.
I am fascinated with the artistic study of the changing effects of light. I often photograph the same landscape at various hours of the day, in different weather and different seasons. I love how light changes color, changes shadows, changes mood and creates an entirely different photograph with the same subject.
I photograph what I love. I love the Pioneer Valley. I feel blessed to live here and see beautiful farms and breathtaking landscape. My favorite time of day is sunrise and sunset because it is a gift of a new day and a gift of another day. I have had 10 more years of days since my battle with Sarcoma, a rare cancer and I will forever notice every sunrise and every sunset and be grateful. This is the reason for my pictures. I want to capture the beauty around me and share it so you can see what I see. So you can enjoy a moment in time."
– Catherine Lee
We are currently accepting applications for showing work in the gallery. Applications can be brought into the library during library hours or emailed to dmemlib@gmail.com. Please find the policy and application HERE.